Flooring Pickup and Disposal Service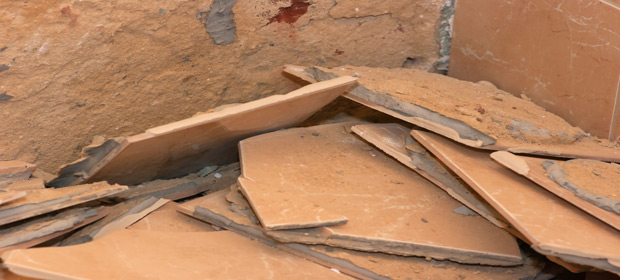 A messy job site can be stressful if you are not experience in removing materials safely. For flooring renovations that require scrap pickup and disposal, Jim's Floor Depot provides excellent services to the residents of Polk County at low prices. You can have experienced workers remove hazardous or space-claiming materials left over from your last flooring project at a fair rate. Even homeowners who have used pickup and disposal services before will be impressed by the skill and quickness of our professional team. Keeping your home clean and beautiful can be simple and cost you less when you work with us!
Faster, Cleaner, Safer
Removing the leftover or damaged materials once you have finished a project is not only time-consuming, but also potentially dangerous. Injuries occur when inexperienced homeowners try to lift heavy scrap or move broken tools without knowing the proper protocol to do so. This is a job best left to the professionals who are trained to deal with this type of challenge on a regular basis. Here are some of the benefits to having your flooring pickup and disposal service done by the experts:
Save time and energy. Between work, school, and your everyday household chores, the last thing that you have time for is a large pile of scrap material. Allowing experts to handle it will ensure that you utilize the free time in your schedule wisely. You can plan ahead with set appointments and deadlines knowing the job will be completed on time, every time.
Avoid personal injury. From loose nails to the jagged edges of torn floorboards, removing scrap can be a dangerous task. If you aren't careful or experienced, it can be easy to drop heavy scrap on your feet, trip over stray parts, or scrape your skin on sharp edges. Avoid the potential for serious injury by letting someone else handle it for you!
Save money on costly mistakes. Even with a perfect installation, the floor you've torn up and all of the mess it leaves behind are still there. Trying to haul out the remainders can not only hurt you, but also scratch or tear your new floor. The last thing that you want after a long and costly renovation is to add repair costs into the mix. Avoid the extra expense by having your spare material removal done right.
Don't worry about where the materials go after removal. Beyond moving the materials out of your newly finished space, you'll want them removed from your property altogether. It can be difficult to transport that much material if you aren't equipped with the right vehicles or tools to do so. Furthermore, it can be a hassle to figure out where to put everything you've removed! Let us handle the heavy lifting and the disposal location worries for you and get back to enjoying your new flooring sooner.
Having the reassurance that your service will be performed with accuracy and speed is key in making the decision to have your pickup and disposal done by professionals. With our team's expertise in removal, you'll be happy to see that the mess is cleaned with care.
Leave It to the Experts!
When you work with us, you will find that our low rates, great attention to detail, experience in the business, and friendly customer service are what set us apart. Your questions will always be answered by someone who knows the finer points of the flooring industry, and contacting us is simple. We can be reached by phone, by e-mail, or at one of our local businesses in Polk County! With so many convenient ways to find what you need, you'll get the services you are looking for in no time. When you need flooring pickup and disposal services at a great price, there is no better business to come to than Jim's Floor Depot. Call us in Dundee, FL at 863.439.7500, or e-mail us for more information or to schedule an appointment today.