Kitchen and Bath Remodeling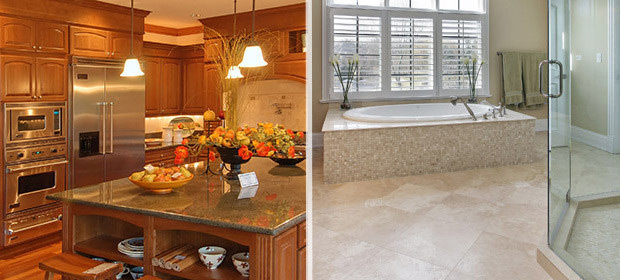 Your bathroom and your kitchen have a lot of the same needs when it comes to renovation and decor. Both of them have purposes that require water-resistant floor coverings like ceramic tile, vinyl or natural stone. Countertops and backsplashes for sinks are key pieces in both rooms. Most importantly, both rooms require any workers involved in their remodeling to be experienced with plumbing work, and capable of working around waterworks in a way that doesn't damage them. What good is a beautiful kitchen or bathroom if you can't shower or wash your dishes?

As always, Jim's Floor Depot offers the best selection of flooring in the Polk County area. The nature of the activities that kitchens and bathrooms are made for requires that whatever flooring you choose for these rooms is waterproof or water resistant. We provide options in glazed ceramic and porcelain tile, luxurious natural stone tiles like limestone and travertine, attractive and durable vinyl sheeting, and so much more. 
In bathrooms and kitchens alike, countertops and backsplashes are one of the first places that the eye comes to rest. This means that both of these fixtures need to be attractive and durable, as well as functional.
Jim's Floor Depot offers advice, materials and installation to provide you with the most beautiful countertops to fit your lifestyle. 
The most crucial aspect of any renovation project for any room is the installation, and that goes double for bathroom and kitchen projects. With delicate waterworks to deal with, electrical or gas lines to work around in the kitchen, and the importance of finishing the job quickly so that you can get back to your routine, these rooms are some of the most complicated to work in.
The professional kitchen and bathroom remodeling crew at Jim's Floor Depot has experience working with plumbing and electrical work, and we can be trusted to finish the job beautifully and on time.